We are pleased to once again offer Adult/Masters Rowing to our local community. We have Learn to Row Sessions schedule this fall (http://sebastiancrew.org/adult-learn-to-row/) and are happy to offer two coached sessions a week for our members, along with access to the facility and equipment outside of coached sessions our rowers pass a safety/captains test. Our Master's rowers will learn in singles, doubles, fours, quads, and eights. Whether you are looking to get out on the water, learn, get in shape, or compete, we have something for you!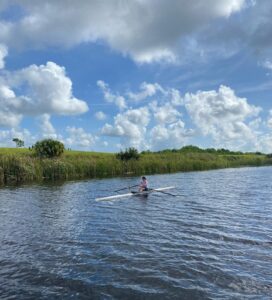 Practice Schedule: Friday Evenings 5 pm - 7 pm (until time change) and Sunday Mornings 8 - 10 am
We also offer Individual Lessons!
Joining and keeping up to date with Sebastian River Rowing is now easier than ever with iCrew! You can register, fill out forms, pay fees, and much more from the iCrew App. To Complete Registration please follow the following steps:
Become a member of iCrew -

Visit iCrew and download the app to your phone. our Club Code is SRR

Create an account for each child that they will be able to log into each day
Be sure to toggle the Master's Team
You will receive communication through your profile

Set up Payments for month, or the whole year