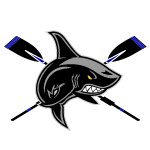 Help Us Pull Through These Tough Times
Name-A-Shell Fundraiser
This opportunity doesn't come around often! We are offering two opportunities to name a boat, along with two opportunities to help pay for summer rowing for our junior rowers. This is an incredible way to honor a person, place, or thing that is near and dear to your heart.
Our goal is to raise $10,000 that would go directly to Sebastian River Rowing to keep our dues the lowest in the state and to keep our program running.
$5 Per Raffle Ticket
$25 for 6 Raffle Tickets
$100 for 30 Raffle Tickets
$250 for 100 Raffle Tickets
$1,000 for 500 Raffle Tickets
You can donate online below, or use cash (Contact Coach Lange) or check (mail to PO Box 782083).
This fundraiser will run until June 20th, on which a live drawing will be held. We will have our boat naming ceremony on June 27th at our Annual Banquet.
Please Help Us Get the Word Out!
Share this on Social Media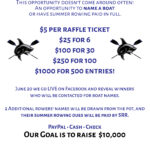 Dinner By Sebastian River Rowing
As a Community Organization, Sebastian River Rowing would like to help those in need that have been affected by COVID-19. We are taking donations of $10 or more to benefit hungry families within Indian River County. 100% of all donations will go towards the purchase of complete meals from the Italian Cousin, and the meal will be directly donated to the family in need.
If you know of a family or individual in need please contact Coach Lange, so that meals can be delivered to those impacted by the effects pf COVID-19. We will be sure to keep this anonymous and exercise compassion.
Please Help Us Get the Word Out!
Share this on Social Media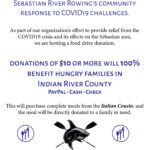 Coach Lange, Coach Vaughn, Lisa Warner, Tiffany Langdon, Taylor Hetherington, Trina Smith, Gina Discenza, Barbara Sparling, Madison Engle