Help us Complete our Dream!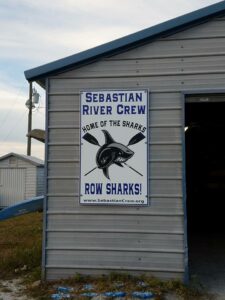 2023 Marks our 18th Anniversary. We began our journey on Canal 54 (leased by St. John's Water Management District) in the spring of 2006 by trailering our boats back and forth to practice every day. Although not an ideal situation for training, our rowers managed to finish just outside of the medals at the 2006 State Championships, which were then held in Tampa. In 2007 our parents with the help of the SRHS Athletic Department and Athletic Director Michael Stutzke raised $11,000 and our first shed was built and we had a home.
As time went on we outfit the shed with racks and electricity. Through a grant from the Sebastian Clambake we were able to install a well with a water treatment system. The team continued to grow and in the spring of 2015, parents and local businesses and supporters helped raise funds to build our 2nd shed. The new building houses our Sweep boats as well as ergs, oars, and cubbies for our rowers. Unlike our first shed, it has a paver floor that keeps our boats clean and well maintained. With the flooring, racks, and electricity, this building cost $20,000. To connect the two buildings a fence was installed and then rack were built with the help of the Abt family.
As we continue to grow and the popularity of our waterway brings in more visiting teams looking to train and race each year, we would like to finish what we started by building our training center. The building will be named the Tom Adams training center in honor of the former Secretary of State who brought the sport of rowing to Sebastian. With the help of TR Hernacki, and Capp Construction we were able to develop plans for this structure and estimate costs for the completion of our dream.
The cost to build the Tom Adams Training Center (building, docks, and supporting equipment) is $2,000,000. In order to make this dream a reality, we are looking to find public support through grants and through private donations. We hope to secure funding and build the Tom Adams Training Center before our program turns 20 (2025).
If you would like more information about our project or would like to donate towards our project we would be happy to speak with you.
We Are Looking For Generous Donors to Help Make our Dream a Reality!
$400,000 - Name a Bay (3 opportunities)
$100,000 - Name Our Dock
$25,000 - Name Our Locker Rooms and Offices (4 Opportunities)
$10,000 - Gold Medal Supporter
$5,000 - Silver Medal Supporter
$1,000 - Bronze Medal Supporter
Donations of any amount are appreciated. If you are able to help in any way please contact our Building Fundraising Committee.